Bucket Truck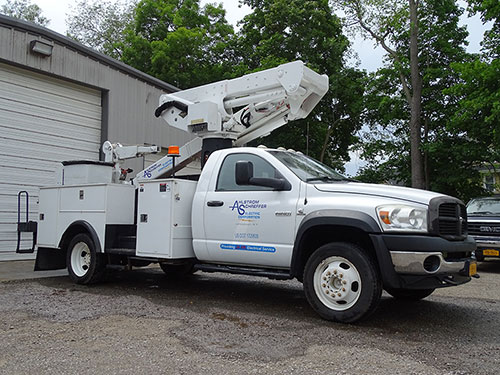 Our service department is on call 24 hours a day, 7 days a week. We have a 45 foot bucket truck that is fully stocked so we can continue our service work without running for materials on the clock. We have one of the few bucket trucks in our area that can handle most of your parking lot lights. We work closely with National Grid to provide you with the latest light fixture rebate programs as we are a preferred vendor for the National Grid Rebate Program.
Infrared
We use Infrared Technology Equipment for the analysis of rotating equipment and electrical systems. Excessive heat can be an indicator of a damaged or incorrect component. It can be used for both troubleshooting and as part of a predictive maintenance program. This approach is appropriate for electrical inspections on loose connections, contactors, fuses, phase imbalance, heater coils, and breakers, etc. This analysis helps reduce the possibility of fires caused by overheating components and/or electrical problems. It also detects anomalies invisible to the naked eye and is a relatively low investment for quick return on investment. Infrared Technology Inspections help to find problems so we can plan a shutdown for repairs instead of having an unplanned shutdown.
Generator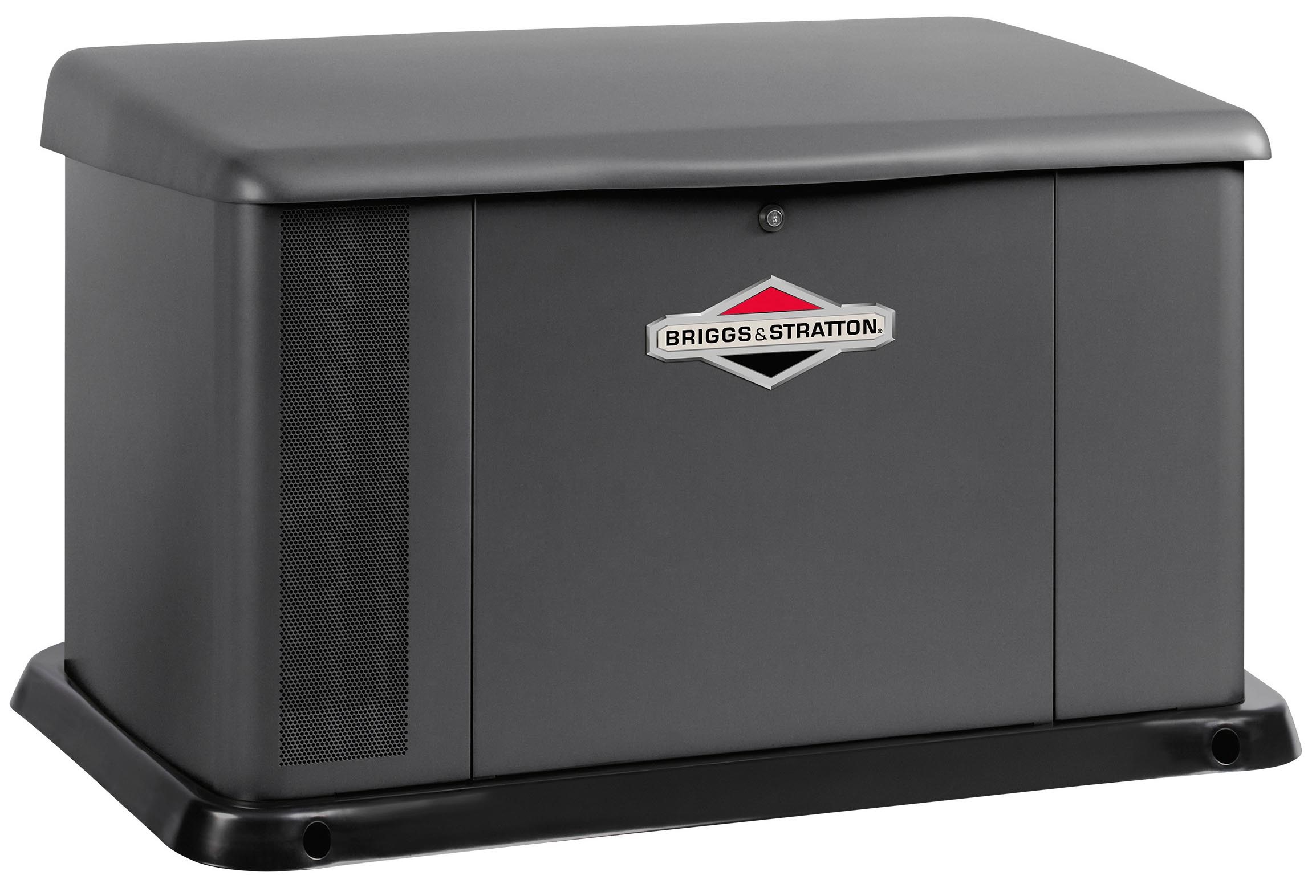 Are you in the middle of a power outage today? We can help you plan for the next power outage tomorrow! As your local authorized Briggs and Stratton dealer in Chautauqua County, please contact our office at 716-665-6510 to find the perfect standby power for your residence or business
Preventative Maintenance (Industrial)
Hazard Identification: Electrical Preventive Maintenance (EPM) Program

Electrical related fires are a common occurrence. Property damage and/or physical injuries due to electrical fires can be devastating. Every year, electrical fires result in hundreds of deaths, thousands of injuries and hundreds of millions of dollars in property damage. While some fires are caused by faulty products, many more are caused by the misuse and poor maintenance of electrical equipment, incorrectly installed wiring, overloaded circuits and misapplied extension cords. Electrical equipment deterioration is normal and equipment failure is inevitable. However, equipment failure can be delayed through appropriate electrical preventive maintenance. In addition to normal deterioration, other potential causes of equipment degradation can be detected and corrected through EPM. Among these are load charges or additions, circuit alterations, improperly set or improperly selected protective devices, and changing voltage conditions.

An effective Electrical Preventive Maintenance Program should consist of the following essentials elements:·

Management commitment· Responsible and qualified personnel–employee training· Regularly scheduled inspection· Survey and analysis of electrical equipment and systems to determine maintenance requirements and priorities· Programmed routine inspections and suitable test· Accurate analysis of the inspection so proper corrective measures can be prescribed· Performance of necessary work· Concise but complete records· Evaluation of repairs and failures to predict future problem areas· Inventory of spare parts for critical components

During the development of your plan, you should take these basic steps:·

Compile a listing of all equipment and systems· Determine which equipment and system are most critical· Develop a system for monitoring· Determine the internal and/or external personnel needed to implement and maintain the EPM Program· Develop a Contingency Plan to deal with outages, equipment failures, etc.

Ahlstrom Schaeffer Electric can develop and execute a plan for your Business Electrical Maintenance Program. Please call us today, so we can plan together for tomorrow!
Design/Build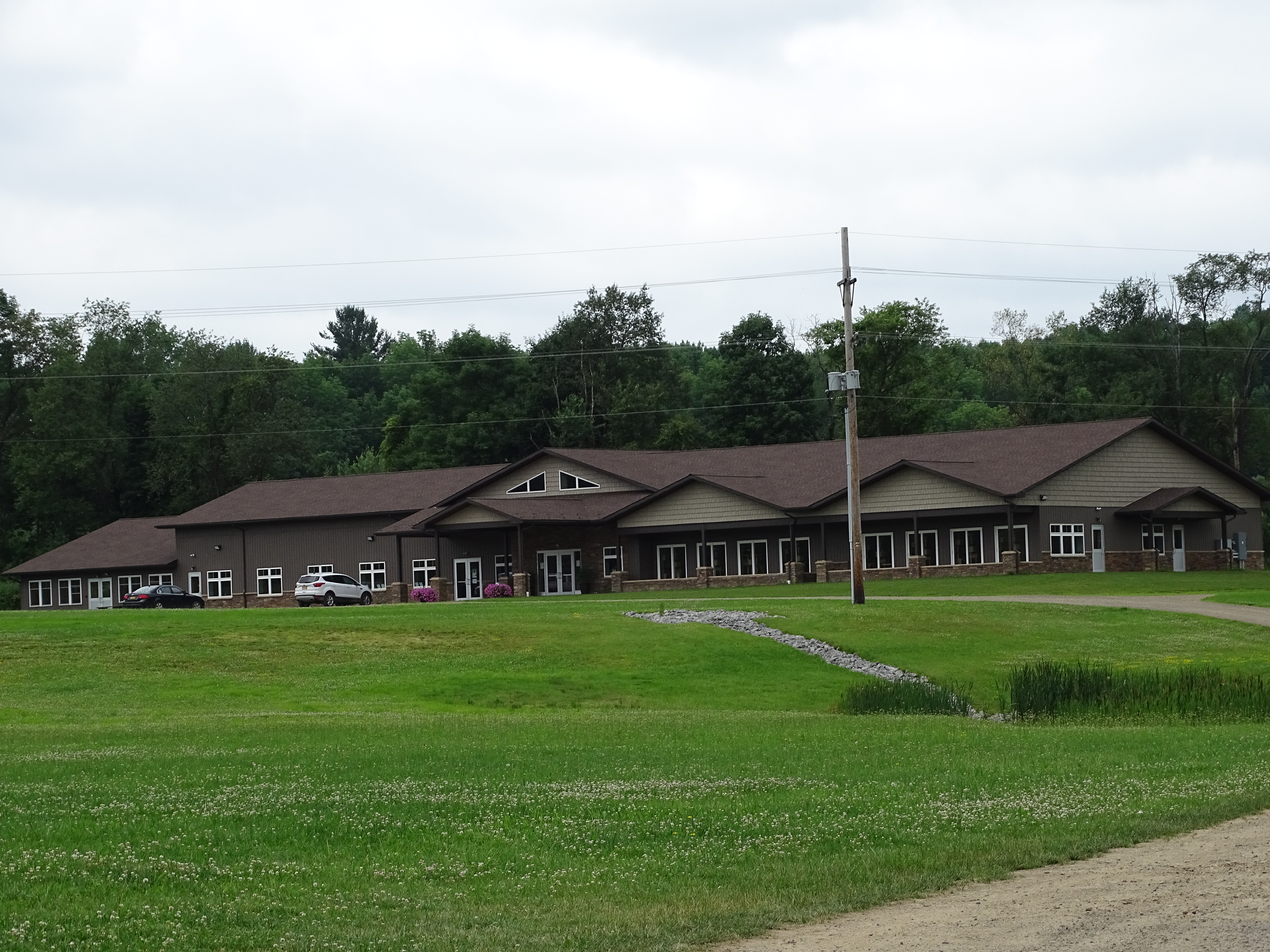 Belmont SPCA
The 15,000 square foot shelter building was designed by Clark Patterson Lee from Olean, NY, using the latest shelter design techniques, including sound mitigation, energy efficiency, air exchange and sanitation. Animal Arts in Colorado also assisted in the layout and flow of the building. Kinley Corp from Allegany, NY, in collaboration with Ahlstrom Schaeffer Electric, constructed a state of art facility designing the electrical power and low voltage systems.
Improved systems will make the building more comfortable for volunteers, visitors, and resident animals. In addition, the SPCA has incorporated "green" building strategies to minimize environmental impacts and increase efficiency, such as geo-thermal for their heating and cooling and solar arrays. The SPCA chose to construct the new shelter out of ICF (insulated concrete forms) - comprised of Styrofoam inner and outer walls and concrete poured inside the walls which not only has a high R-value, but it also will act as a sound barrier. Their goal was to reduce the stress on the animals and to provide a healthier environment and to focus on enrichment and socialization activities for the animals in our care.
The Allegany County SPCA has traditionally sent cats and dogs to Alfred State College's Vet Tech program, which offers spay and neuter services by the college veterinarians. This partnership also provides opportunities for observation experience for vet tech students. The shelter spay/neuter clinic was intentionally built with observation windows, and the clinic has the potential to provide further collaboration with the college.
For information on adoption, donations, volunteering or general questions call (585) 593-2200 or email
SPCAallegany@gmail.com